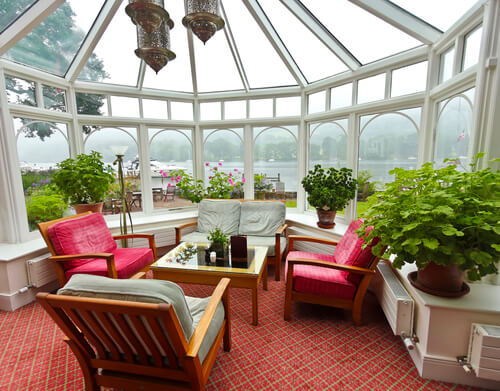 An Arizona room can be a great addition to your home. It is a great way to enjoy the sunshine without having to go outside. Such a comfort is also great when it comes to socializing with guests and relaxing during long summer days.
But when the colder days arrive and the day shortens, your Arizona room can get really cold. This is why homeowners should think ahead about heating options, which can transform it into a three of four season sunroom. Before calling the best heating service Chandler, AZ has to offer, check out some of the best Arizona room heating options.
Space heaters
This easy and cost-effective solution uses a radiant heat source to distribute heat through a fan. It can be mounted on a wall or placed in a particular section of the room, easily movable when needed. What is great about a space heater is that it can be used during the winter months and turned on only when you use the Arizona room, and turned off when you don't need it.
HVAC system
If you extend your HVAC system into the Arizona room, it will provide a great way to heat the area. Things to consider before doing so are the square footage and expenses. On the plus side, it also provides a way to cool your Arizona room during hot summer months. If the room has a glass ceiling, the vents can be installed on the wall or under the floor.
Underfloor heating
Unlike the previous options which aim to heat the air, this one is focused on the floor. This means that it will keep your feet warm, also warming the rest of your body. It goes along with rooms with tiles, hardwood, laminate or rugs and carpets. If you want to install it, consider the necessity of replacing the existing floor and possible placement of additional plumbing.
Baseboard heater
If it is impossible to extend your home HVAC system into your Arizona room, a baseboard heater can be the way to go. It is cost-effective and very efficient since it's controlled by a thermostat which regulates the temperature. It uses air which circulates along the room and is easy to install.
Ventless fireplace
Depending on the design of your room, you might want to choose a ventless fireplace. It is filled with gas and can warm up the room very fast, making for a comfortable atmosphere. There are also some quite attractive models which can bring the best from your room, making it more modern and stylish.
Insulations
Although it may not be the most effective way to heat up a room, it can be a welcome addition to another option used to maintain the heat. You can put carpets on the floor and cover the windows with plastic, curtains or thermal-insulated draperies. This can keep the heat inside and add a little privacy.
#1 Heater Service Chandler, AZ for your Arizona Room
If you want to add an Arizona room to your home or redecorate an existing one, think about all the heating options and call Hughes Air Conditioning & Heating Repair for reliable and expert heating service in Chandler, AZ!