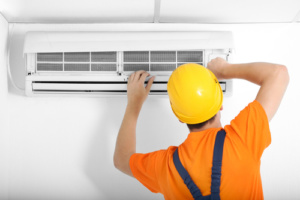 An AC in your Scottsdale home that's in urgent need of repair is no laughing matter. Not only are you in a hurry to find a reliable AC repair company because of the heat, but also because you want to know what's causing your AC to malfunction or stop working altogether.
Once you have chosen a reliable company specializing in air conditioning repair in Scottsdale, AZ and offering reasonably-priced AC repair and maintenance services, you won't have to worry about a thing. They will not only repair your AC but also remind you when the time comes for your AC system's regular maintenance. But for now, let's see what we can do about helping you try to repair the AC all by yourself!
How to troubleshoot central air conditioner?
If you own a malfunctioning central air conditioner, the troubleshooting is best left to the pros. Still, there are things you can try to do yourself. Here are the potential problems, their potential causes and solutions:
If your AC unit won't turn on, you could be dealing with the internal switch being off, a blown fuse or circuit breaker or wrong thermostat settings or thermostat malfunction.
Solutions:
Check if the unit is receiving power.
Replace the fuse or reset the circuit breaker.
Check thermostat settings (make sure it's set to "cool" and not "heat" or "off).
Check the condensate drain pan. If there's too much water, the sensor on the pan may have turned off the unit.
Check whether all the switches are "on", and don't forget the outside unit's external safety switch.
Check whether the blower door of the air handler is properly closed.
If the AC will turn on but isn't cooling, something might be blocking the airflow. Potential culprits include filters, registers, compressors or low refrigerant level.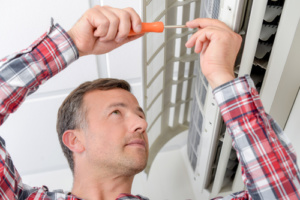 Solutions:
Check the thermostat and make sure it's functioning properly.
Check the condenser and remove any dirt, debris or blockage.
Check whether there is ice on the coils. In that case, turn on the fan to melt it.
Check/clean the compressor located outside. It might be faulty or have a low refrigerant level, in which case you're going to need the help of the pros.
If you have a poor airflow circulation throughout your home, the usual suspects are a dirty filter or a ductwork problem, such as blockage or crimping. It could even be disconnected.
Solutions:
Again, make sure the air filter is clean or needs a replacement.
Inspect ductwork to see whether it's been disconnected. If that is the case, you should repair or reconnect it. However, it might be located in hard-to-reach areas of the house, such as the crawlspace, the attic etc. in which case you might want to leave it to a professional repairman.
Check register dampers and make sure they are set to open.
How to repair air conditioning ducts?
As previously mentioned, you could try to fix your air conditioning ductwork by yourself. It is not exactly easy to reach them for a proper inspection and repair, but you could still give it a try. Your ductwork might be damaged due to being improperly routed, under-insulated, or having a leakage.
Unbalanced airflow could also be a major problem affecting some homes, so that the house is unevenly cooled or heated. This is usually something that only experienced, competent professionals can take care of properly. What is really important is to take care of this as soon as you notice the problem as the heat loss alone could be costing you thousands of dollars a year!
How to repair window air conditioning unit?
The great thing about window air conditioning units is that they are both affordable and easy to install, making them a popular, albeit not always the most cost-effective, choice for many homeowners. But if you have a broken one, you'd want to do everything you can to have it fixed as soon as possible by a competent professional if possible. However, if you're really impatient but somewhat handy, you might want to try and do it yourself. Luckily, there are a few things you could do about it. The main issues these units usually have is that they do not cool enough, they get unbearably noisy or they don't turn on at all.
If they're cooling capacity is insufficient, chances are they should be filled with the refrigerant, or that they simply need a good cleaning. In that case, disassemble the unit and give its repair your best shot, if you think that you have what it takes, the skills and the tools. You can also call an AC or appliance repair professional.
If the unit won't turn on at all, there might be a lack of power supply, as all those devices do draw a lot of electric power. Sometimes, there's an outage or another reason that might lead to the unit's poor performance or complete failure to activate.
If the unit is making a lot of noise, perhaps you're dealing with faulty bearings, which can best be dealt with by the pros. You might also use basic lubrication and try to oil or even replace the bearings.
Looking for a top-notch air conditioning repair service in Scottsdale, AZ? What you need is Hughes Air!
We know that an air conditioning system is an indispensable part of every Arizona home. After a relaxing day at the Scottsdale Museum of Contemporary Art, coming to a pleasantly cooled home is like a cherry on top! But we are also well aware of the fact that a broken AC spells trouble for everyone in the house. This is why we will go to any length to ensure that you receive the most efficient service, rendered as fast as possible. Our technicians, who are NATE-certified, always go above and beyond to get that AC of yours up and running! Get in touch with Hughes Air, let us know what's your AC emergency and expect a swift response!