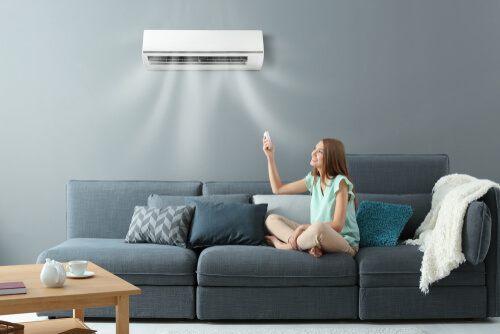 If you have decided to invest in a new AC unit, make sure to take some time to research your options instead of rushing to the first store that you've come across. If you live in Scottsdale, you have nothing to worry about since this town is famous for its top-notch air conditioning technicians who are always ready to answer your call and help you with any AC-related issue.
In case you don't know much about ACs, don't pressure yourself into making this decision on your own. Instead, rely on your chosen professionals to advise you on what you should look for and when the best time to replace your unit is. You can also use this opportunity to learn how central AC functions and find out how much it costs to install it. Once you have gathered all the information, it will be easy to make the right decision.
What should I look for when buying an air conditioner?
If you want to improve the quality of the air inside, get the most out of your unit, but avoid going bankrupt paying astronomical energy bills, these are the features you should have in mind when making the investment:
Energy-saving switch. This amazing tech advancement serves to preserve the energy by turning off the fans as soon as the compressor turns off. This way, you'll reduce power consumption and save some money on your bills.
Noise control. Different AC units have different noise levels and you should remember to check the product specification for this. It's best to opt for an AC that has noise levels below 50dB and avoid buying a unit that will constantly go on your nerves and make your neighbors go crazy.
EER. This abbreviation stands for energy efficiency ratings, and that's something you should definitely bear in mind when shopping for the AC. You should look for products that have an energy-rating label on them. The more stars they have, the less energy they'll spend.
Quality filters. AC filters are a crucial component of every unit. Not only is their role to improve the air quality by removing odors, pollutants, allergens, and harmful germs, but they are essential for the proper and efficient functioning of the AC. This is something you should never skimp on.
Dehumidification. Another important function of every AC unit is to remove excess moisture from the air. People who live in humid areas should opt for the units that can eliminate several pints of moisture per hour.
What size air conditioner do I need?
When you're buying a new AC, you should be super careful not to buy one that is either too small or too big. You don't want to end up stuck with an AC that cannot maintain the temperature at the desired level, or be forced to pay high energy bills because your large unit is consuming too much power. Let's see how to avoid this:
Pay attention to wattage. It has been estimated that 0.15 kilowatts are needed per square meter. So, make sure that you know what the size of the area that you want to cover is and do the math. Take its length, width and ceiling height into consideration.
Calculate in other factors such as the number of people per the room. The more people are in the room, the stronger the AC unit will need to be. For instance, it has been estimated that for every additional person your unit will need an extra 0.18 kilowatts to function efficiently.
Which way does the room face? If your room is particularly sunny in the summer, you should invest in a slightly stronger unit. On the other hand, if it's not getting any sunshine during the day, think about decreasing its capacity by 10 percent.
Consider insulation. If your rooms are not properly insulated, the cool air will escape faster, and you will need a stronger unit to maintain the temperature.
Looking for the best air conditioning service in Scottsdale?
If you need a top-notch air conditioning company in Scottsdale to repair or install your AC unit, Hughes Air is your best bet. Our team of experts has over 30 years of combined experience in this field and will go above and beyond to provide you with unparalleled service and satisfy your air conditioning needs.
We deeply care about our community and are only content when our customers are 100% satisfied. Therefore, we are constantly investing in our equipment and working tirelessly on upgrading our knowledge and skills. With us, you are in safe hands. You can finally relax, take a walk, or visit the amazing Rosson House Museum while we install a brand new AC unit for you.