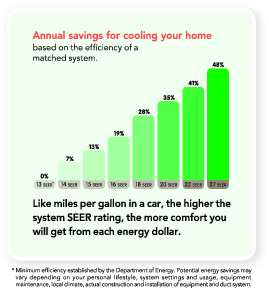 When you're in the market for air conditioning installation, you've come to the right place! Hughes Air Heating & Cooling specializes in selling and installing premium AC systems from Trane, including the leading XV line with impressive sound and SEER ratings. In fact, we're an official Trane Comfort Specialist, catering to air conditioning in Tempe,  Mesa-area property owners with a first-class selection of products and services for package units, mini-splits, and central air installation. Your home or business will enjoy the ultimate in refreshing air when you take advantage of our extensive expertise in Trane systems and air conditioning installation, air conditioning repair Arizona service, expert ductwork installation, and air duct sealing assistance, as well as dependable commercial HVAC services. Ready to get started on your project? Call or e-mail us today!
You simply can't go wrong with a Trane air conditioner sized and installed by the pros at Hughes Air Heating & Cooling. Our air conditioning installers work carefully to provide you with the best possible system for your space and your cooling requirements. Whether the most ideal option for you turns out to be a ductless mini-split system or central air installation, you can look forward to a bundle of benefits from your new Trane AC install. These include:
Superior temperature control
Improved air circulation
Enhanced air quality
Lower humidity
A healthier indoor environment
Even a boost in property value!
That's right. An investment in central air conditioner installation not only means better everyday comfort for your living or working space, but it also increases the overall value of your property, which can pay off nicely down the road. What's more, Hughes Air Heating & Cooling can take care of everything whether this is your first air conditioning installation or you're replacing an aging system. We make a point of tailoring our air conditioning sales and installation services In AC Chandler to suit each customer's individual circumstances. As a result, you get the Trane air conditioning installation that's just right for your needs.
Great Warranties on Central Air Conditioner Installation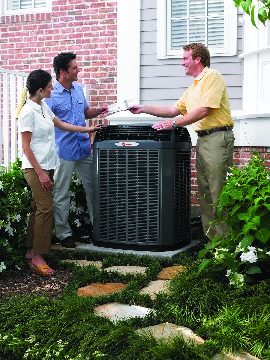 We're so confident in the skilled workmanship of our air conditioning installer team that we back all of our professional install services with a full one-year warranty. That's protection you can count on should any problems arise following your central air installation or split-system AC install. We want you to be 100% satisfied with the outcome of your air conditioning installation service, and we want that feeling of satisfaction to last for a good long time. To check out all of our quality options for Trane air conditioning installation In Scottsdale AC , reach us now by phone or e-mail. And for regular service on your split or central air conditioning installation year after year, be sure to enroll in our maintenance contract program. Chances are it will extend the life of your air conditioner and ensure its optimal performance.