What Our Clients Say About Us
Numerous issues such as leaking ducts, not getting the desired temperature in your home or severely increased energy bills could indicate that your air conditioner requires a professional checkup. Air conditioner breakdowns are a sad reality, especially during the summer. As one of the most expensive systems in your home, you should be careful who you entrust your air conditioning system to.
Only an experienced and reliable company such as Hughes Air Conditioning Heating & Cooling is capable of providing a high level of service Chandler residents should expect when hiring a professional. We understand how unbearable even a single day without the air conditioner can be and how serious even a small mistake can be when it comes to air conditioner repair.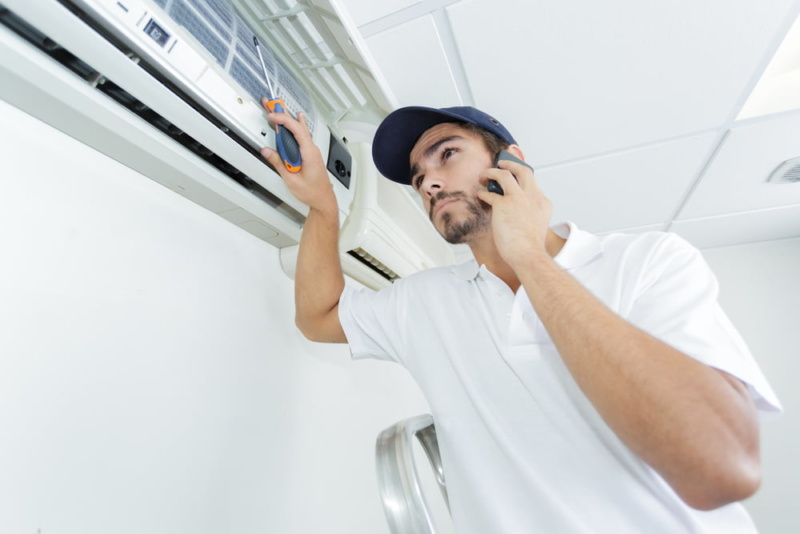 Air Conditioning Repair Chandler Has Come To Trust
Having your air conditioner fail in the peak heat of the summer is one of the most unpleasant experiences a homeowner can go through. If you are looking for a professional air conditioner service, look no further than Hughes Air Conditioning Heating & Cooling. Our agents will help you better understand the problem before a technician even comes by to take a look at the actual issue. Some of the questions our agents will ask you to speed up the process and gain more insight into the actual issue are:
        Is your air conditioner working?
        How long has the issue been persisting?
        When did you last have a full air conditioner service?
        How frequently have you been experiencing issues with your air conditioner?
Based on your answers, our technicians will come prepared to detect the actual issue and suggest the best course of action. In some cases, having the issue repaired is as simple as switching out a part of your air conditioner that was causing it. In other cases, for example, if your air conditioner system is old or has been fixed too many times, our technicians might suggest replacing your system completely.
Whether you need a quality air conditioner repair or installation service, Chandler residents can vouch for the quality of our work. With over 30 years of collective experience serving Chandler, Scottsdale, Gilbert and the surrounding areas in Arizona, our contractors have handled various AC issues, large and small. But we do not leave everything to experience. In addition to that, our technicians are constantly learning about new AC trends and technologies necessary to handle more complex, modern air conditioner systems.
How Do I Find A Good Heating And Air Conditioning Service Near Me?
Hughes Air Conditioning Heating & Cooling provides nothing but premium-quality service to residents of Chandler, Gilbert and surrounding areas in Arizona. From the first call to the actual appointment, you will get nothing short of professional and courteous technicians able to solve any HVAC issue you may have. If you have any questions about our services, don't hesitate to ask our call agents or technicians on-the-spot.
Why Choose Hughes?
We have put years of professional service into becoming the best Chandler air conditioning repair company. Our dedicated approach has helped us build a loyal customer base and the constant stream of referrals we get from them speaks volumes about the quality of our services.
Extensive Knowledge Of HVAC Systems
With over 30 years of collective experience, our technicians are familiar with all HVAC brands and systems and can ensure the same level of quality no matter which one you use. All our employees have years of experience and continued additional training.
Our Services Come With A Warranty
We believe that there's nothing more valuable than trust when it comes to forming strong relationships with our clients. This is why we offer a one-year warranty on all our HVAC installation services. If you feel unsatisfied by the work we've done, we will be more than happy to do it better the next time.
Top Rated, Award-Winning Chandler Air Conditioning Repair and Installation Service
If you don't trust us, trust the numerous Chandler homeowners who are more than happy to recommend our services on services such as Google or Yelp. Furthermore, our company was awarded the Mesa area's top Trane HVAC installer for the XV product line in 2015.
We Offer Superior Financing Options
Any investment in the air conditioning system, whether it's related to repair or installation, can be too much for some homeowners. This is why we can accommodate any home with affordable and practical financing options. Our staff will be more than happy to walk you through all the different options and find the one that best suits your needs.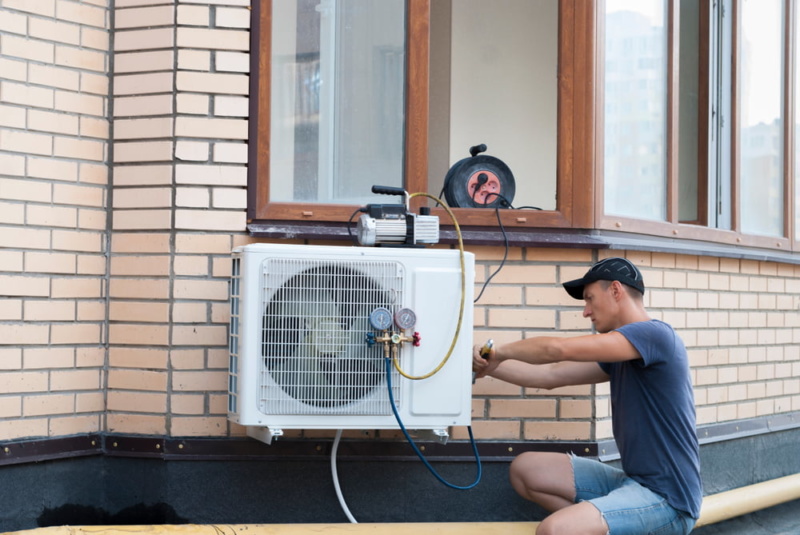 HVAC Services We Offer
In order to accommodate any HVAC-related need a homeowner in Chandler may have, we offer a comprehensive array of services ranging from simple fixes to complex replacements. We can handle any issue you may be facing reliably and efficiently.
Air Conditioner Repair
If your air conditioner system is giving you a headache, we can help you diagnose and fix it in no time. If your air conditioner breaks down during the peak summer heat, our efficient technicians will do their best to restore the comfort you require as soon as possible. We can diagnose the issue and suggest the best course of action within a reasonable time-frame.
Air Conditioner Installation
If your old HVAC system has run its course, we can install a brand new, reliable system that can help you maintain the level of comfort you have become used to. Our installation services are both reliable and affordable, with a consistent level of quality. We will perform an inspection in order to present the best air conditioner size and make that will guarantee every square foot of your home will be evenly cooled.
Preventive HVAC Maintenance
Even if there are no apparent issues with your air conditioner, that doesn't mean that there isn't a subtle issue that can quickly escalate and cause trouble at the worst possible time. The only way to prevent these issues from growing into serious problems is to schedule regular preventive maintenance. This includes inspecting the HVAC system, cleaning the filters and ducts and making sure all the elements are working in harmony.
Commercial HVAC Service
Servicing a commercial building requires more manpower, resources and expertise than a residential job does. Fortunately, experts at Hughes are more than capable of handling any commercial HVAC issue or perform routine maintenance on your company air conditioning system. Depending on the particular demands of your business, we will come up with a tailored solution that will help you keep your employees comfortable and happy.
Air Conditioning Repair Experts Answer Your Frequently Asked Questions
What Are The Signs Of A Malfunctioning Air Conditioner System?
In most cases, you will know there's something wrong with your air conditioner because the temperature in your home is far from ideal. Maybe your air conditioner is not cooling your room effectively or is cooling different areas in your home unevenly.
Other times, the issue may not be as apparent. In some cases, homeowners only notice there's something wrong with their AC when they notice a spike in their energy bill, caused by a system that's not running at maximum efficiency.
The air conditioner may also be cycling or constantly switching on and off or producing loud, unusual noises. If your air conditioner is performing less than what you expect in any aspect, you should get in touch with a reliable Chandler air conditioner repair company to eliminate any doubt or handle the issue.
How Do I Know My AC Bill Is Too High?
Your utility company can help you determine whether your energy bill is higher than usual. You can compare your previous bills and see if there's an unusual spike during the periods of prolonged air conditioner use. However, this method is not always going to be effective since the weather conditions won't be identical every month of every year.
A more reliable method involves dividing the amount of your energy bill by the square footage of habitable space in your home. Make sure not to include areas that are not being cooled like the attic or the basement. This will give you an average you spend per square foot. Compare this to the average spend in Chandler, AZ and you will see if there are any major discrepancies.
How To Make Sure My Air Conditioner Doesn't Break?
There's no guarantee your air conditioner won't break at some point; no matter how good care you take of it. As they age, the components of your air conditioning system will likely fall victim to wear and tear. However, some maintenance can go a long way in protecting your air conditioner from breaking down much earlier than its expected age.
The first thing we recommend every homeowner should do is to replace the air filters every three to six months. Next, make sure nothing is obstructing the outside unit, such as debris. Make sure all the vents in your home aren't obstructed either. All of these will keep your air conditioning system efficient and intact for years to come.
Do You Service All Popular Brands Of Air Conditioning Systems?
Yes, our technicians are capable of dealing with any HVAC issue regardless of the brand of HVAC system you use.