The Premier Gilbert Air Conditioning Company for All Your AC Needs
There are several issues that might be a signal that your air conditioning unit checkup is required. These issues include drastically higher electricity bill, your AC struggling to reach the designated temperature, leakage from the ducts, and strange noises.
Whether we like it or not, AC units break down. This fact may be really unpleasant to think about, especially in the middle of the summer with high temperatures all around. Having your system repaired quickly is certainly paramount, but you really need to be mindful of who handles these repairs. The AC unit is one of the most expensive pieces of equipment in your home and should be treated with the utmost care.
Hughes Air Conditioning Heating & Cooling is a highly professional and experienced air conditioning and heating repair company in the Gilbert, AZ area. We uphold the high standards of service that Gilbert residents have come to expect of us. Being without a functioning AC in Arizona during the summer is out of the question for most people, which is why we ensure a timely and professional air conditioner repair every time.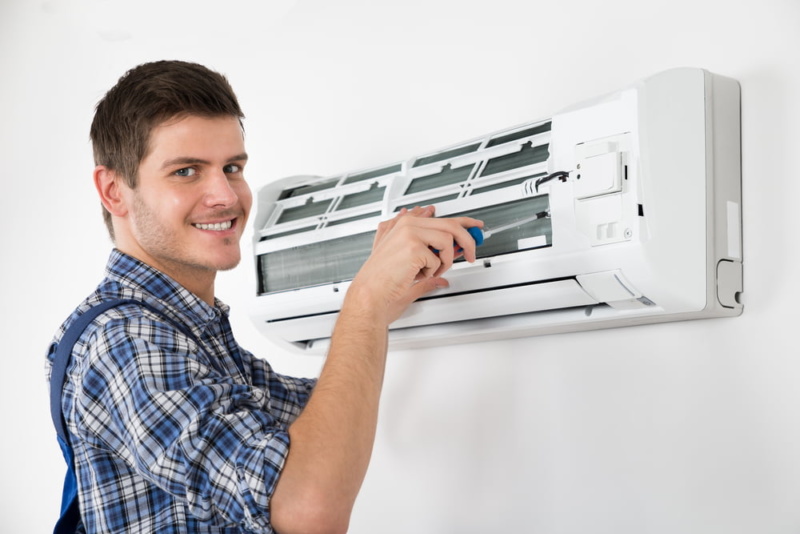 Air Conditioning Repair Gilbert Can Trust
Air conditioning units are pretty much indispensable in the summer in Arizona. The temperatures rise to the levels which most people couldn't stand without artificial climate control. This is why an AC failure is one of the least pleasant things that can happen to you in Gilbert in the summer.
Therefore, if you are in need of a professional air conditioner service, Hughes Air Conditioning Heating & Cooling should be your first (and only stop). At Hughes Air, our experienced agents make sure to help you understand what the problem is even before the technician arrives and repairs the problem. In this way, we can speed up the diagnosis problem and make sure that your AC is up and running as soon as possible.
Some of the most common questions our agents ask the customers include:
        Does your air conditioning unit work now?
        How long have you been aware of the problem?
        When was your last full annual air conditioner service?
        Has anything similar happened before? If yes, how often?
When answering these questions, try to be as honest and as accurate as possible. On the basis of your answers, our technicians will be able to discern what the most likely problem is, and come prepared for those eventualities. At times, your AC issues may be as easy to repair as replacing a single part, or giving it a thorough cleaning. On the other hand, there are times when the issues are so complicated and extensive that you may need to have the whole system replaced. This happens with systems that are old, or have been repaired numerous times.
When it comes to quality air conditioner repair and installation, Gilbert puts its trust in Hughes Air Conditioning Heating & Cooling. Over three decades of collective experience serving Gilbert, Chandler, Scottsdale and the surrounding areas, the technicians employed by Hughes Air have amassed a lot of experience with various AC problems, no matter how complex or simple. However, we don't like to sit on our laurels; instead, our technicians continually learn about new technologies and techniques in order to be able to tackle even the most modern and advanced AC systems.
Finding a Good Heating and Air Conditioning Service Near Me
If you are on a lookout for a good heating and air conditioning repair company, remember that Hughes Air Conditioning Heating & Cooling boasts a premier AC and heating service for Gilbert, Tempe, and the surrounding areas. We make sure that your experience is nothing short of flawless from the initial call, to scheduling the appointment to the actual repair. Both our phone agents and technicians are courteous and will answer all of your potential questions, as well as give you some handy advice.
Why Hughes Air Is a Good Choice
Over the past years, we have put in a significant amount of work and effort to become one of the premier Gilbert air conditioning companies. This dedication has ensured that we have a steady base of customers, as well as a number of new referrals that soon turn into regular customers.
We Know AC Systems
Hughes Air Conditioning Heating & Cooling technicians make sure to be knowledgeable about a wide variety of HVAC systems in order to offer the peerless service that our customers have come to expect of us. Apart from the hands-on experience over the years, continual education of each technician is one of the pillars that hold Hughes Air in such a high spot in Gilbert.
We Offer a Warranty for Our Work
We stand behind our work. And we are willing to show it. That is why we offer a one-year warranty on installations we do. Any unsatisfied customers can contact our phone agents and we will come to an arrangement.
Awards & Rating Show We Are the Best Gilbert Air Conditioning Repair and Installation Service
We don't praise ourselves without backing. There are numerous Google and Yelp reviews from Gilbert homeowners who recommend our services. However, we don't just rely on customer opinions exclusively. Hughes Air has been chosen as a top Thrane HVAC installer for Tempe in 2015.
Financing Options
As mentioned before, your air conditioning system is a very expensive piece of equipment. If you need a new AC system or a complex repair, it is possible that you may not have the resources needed to pay for it on hand. That is why Hughes Air decided to offer financing plans. Contact our agents, and they will detail all of the options to you, and find the financing option best suited to your needs.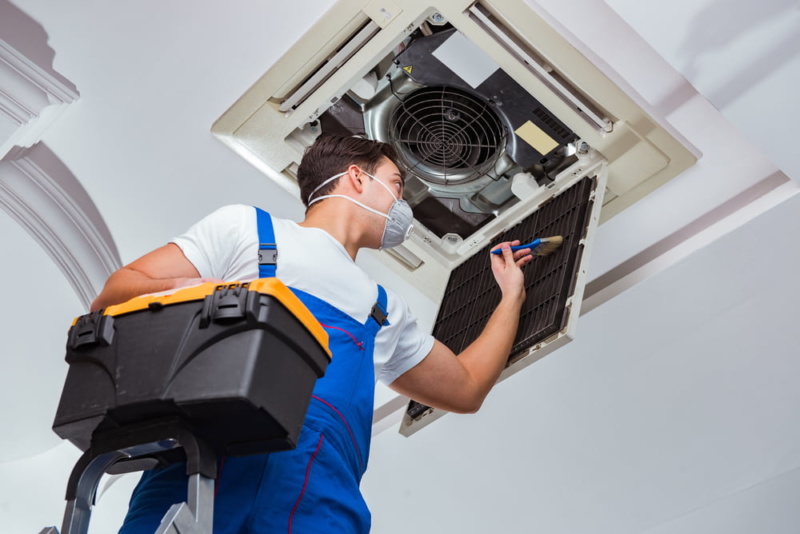 Our HVAC Services
Due to the variety of heating and cooling solutions available on the market today, Hughes Air offers a comprehensive suite of services to cater to all Gilbert residents, from the smallest repairs to the most complex replacements and installations. These services include the following.
Air Conditioner Repair
Diagnosing and repairing any issues with your air conditioning units is as simple as consulting out agents who will dispatch the technician to your address. In order to minimize your downtime, our technicians work fast and efficiently.
Air Conditioner Installation
In some cases, repairing the old AC is not an option, and a brand new system needs to be installed. Our Gilbert air conditioning installation service will ensure that you get the optimal new system, suiting both your budget and comfort needs.
Preventative HVAC Maintenance
People often say 'if it isn't broken, don't fix it'. However, when it comes to HVAC, that is not the best approach. Air conditioners are complicated and delicate machines that need regular attention and maintenance. Typically, experts recommend having at least one annual maintenance done on your system. Hughes Air offers these annual maintenance services to our regular customers, as well as any new customers who want to experience a truly professional AC service in Gilbert.
Commercial HVAC Service
Even though we mainly focus on residential heating and air conditioning services, we also offer commercial heating and cooling solutions. Commercial heating and cooling typically require more manpower and specialized expertise, so not all companies are qualified to offer these services. However, Hughes Air is a company where we strive to be on top of all the latest and best services, including commercial HVAC services. These include routine maintenance, repairs and even installations.
HVAC Experts Answering Some of the Burning Questions
Our technicians compiled a few of the most common questions which people ask them on-site and they decided to answer them here for all Gilbert residents to see.
How Can I Tell My AC System Is Malfunctioning?
There are numerous ways you will be able to tell that something is wrong with your system. Primarily, if your AC doesn't turn on when you press the button. However, even if it does turn on, it is possible that your AC doesn't deliver the experience you are expecting.
However, there are some less obvious ways your air conditioning system is telling you something is wrong. If you notice a drastic spike in your electricity bill, one of the potential culprits might just be your AC. Turning on and off frequently means that the AC is cycling too quickly and may be an indication of some deeper issue.
If you notice any of these issues, contact us, and our agents will help you get to the bottom of the issue.
How to Keep My Air Conditioner from Breaking Down?
This is a somewhat complex question and it needs to be clear right from the start that there are no guarantees that your AC system won't break down. However, what you can do is maintain in the best you can and minimize the likelihood of that happening. Scheduling an annual maintenance service with a professional air conditioning technician is paramount for this. A skilled technician can spot a potential problem even before it starts manifesting and causing serious troubles. Furthermore, replacing your air filters regularly will ensure that your AC always runs on maximum efficiency.
Does Hughes Air Service My Brand of AC?
Hughes Air is the preferred partner of the manufacturer Thrane, which means that we have some exclusive deals from Thrane you can't find with other HVAC companies in Gilbert.
However, our technicians are trained to maintain and repair a large number of air conditioner brands and models, which means that we will be able to help you regardless of which AC you have installed.