How To Choose An Air Conditioning Company?
If your air conditioning system breaks down unexpectedly and you're forced to find the first available air conditioner service in Scottsdale, you may stumble upon all sorts of unreliable technicians that might charge you less but will do a less-than-ideal job too.
This is why you need to look into your local HVAC repair companies before an actual emergency. There are several factors that can give you a good indication of whether an HVAC service can be trusted or not. Knowing this will help you be prepared and make a good decision even in an emergency.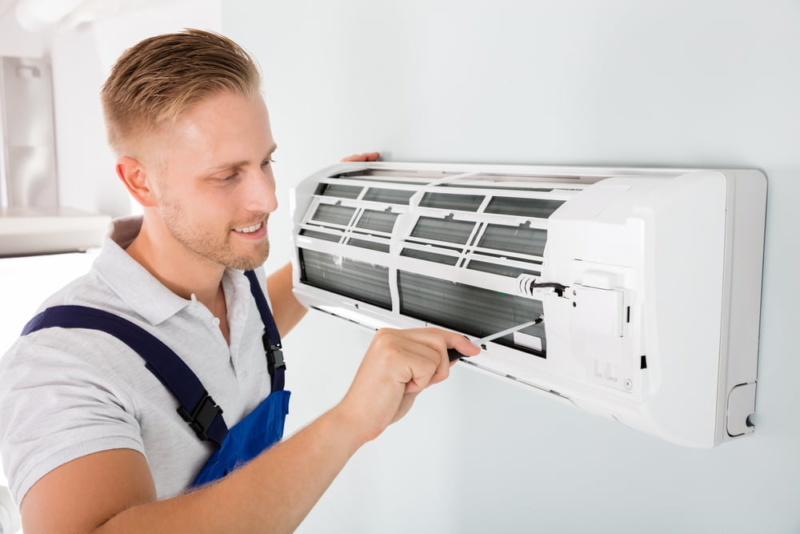 What Should I Look For When Choosing And Air Conditioning Company?
If you are considering hiring an HVAC service, you need to know what is it that makes such a company reliable. So before you even ask for a quote, make sure to learn the following information.
What Guarantee Of Quality Do They Offer?
Investing in a new air conditioning system or replacing your old one is a huge investment. Therefore, you need to know that your comfort is in the hands of someone capable. If a company is following industry standards, they will offer a warranty on their service. At Hughes, we offer a one-year warranty on all our installation contracts so you can rest assured knowing your comfort is in good hands.
Certified, Insured And Bonded
The core of every reliable company is the HVAC technicians. The technicians the company employs have to be certified, experienced, as well as bonded and insured. The technicians at Hughes have over 30 years of collective experience as well as constant education on all the latest industry trends and advances.
Areas Of Expertise
There are differences, however subtle, between different air conditioning systems and their repair. The details are specific to both the model, the make and type of air conditioner. The technicians at a Scottsdale HVAC service need to be familiar with all the different models and brands, including the one you own.
How Far Are They?
In case of an emergency, knowing a local air conditioner repair company in Scottsdale could be instrumental. Hiring a local company ensures they will arrive early and take care of the issue as soon as possible. Hughes Air Conditioning Heating & Cooling is a locally-based Arizona HVAC company serving Scottsdale, Chandler, Gilbert, Tempe and the surrounding areas.
How To Check A License Number For An Air Conditioning Repair Company?
Every reliable HVAC contractor should have a Construction Contractors Board license issued by the state they are operating in. So when hiring an HVAC company, make sure to ask for their certificate and note down the number. Also check whether the certificate was issued specifically for Arizona.
Next, contact the department of licensing and registration in Arizona and ask to verify the number you wrote down. They will let you know whether the company is actually licensed to operate in the state of Arizona or not. At the same time, you can enquire about information regarding their training and education.
Things To Know When Installing A New AC Unit
The different components in the air conditioning system are created to work in close relation in order to accommodate the change of temperature in your home. Therefore, when choosing a new AC unit for your home you need to take into account different factors such as the size of your home, the local climate, your budget and seasonal fluctuations. Read on to learn what you need to consider before buying a new unit and finding certified HVAC installers to perform the process of setting it up.
What Is The Right Air Conditioner Size?
When it comes to HVAC systems, one size definitely does not fit all. The size is the first thing you need to determine in order to ensure all areas of your home are heated and cooled equally. To find the right AC size you have to take into account the dimensions of your home and the frequency of AC use.
If you get a system that's too big, you will have to frequently power it on and off, which will waste a lot of energy and wear the system out way before its specified life expectancy.
However, if you choose a system that's not big enough, it will constantly work at full capacity to make up for the size. This means that your energy bills will likely get higher and your AC will require frequent repairs.
How Loud Is It?
Many of the recently produced AC systems are quiet by default (unless there's an issue causing the noise). However, it's still worth checking the noise levels before purchasing an HVAC system for your home. There's nothing worse than starting your air conditioner for the first time, only to discover that the noise your AC is producing are unbearable. Ideally, the AC shouldn't be louder than 60db. If you are not sure how loud a particular system is, don't be afraid to ask our certified HVAC installers for advice.
What Are Its Ratings?
If you are not too familiar with the HVAC industry and have an ageing air conditioner in your home, you might not be familiar with the latest innovations and ratings in the industry. Latest HVAC systems are much more efficient, eco-friendly and durable than those used over a decade and more ago. One way to learn about the performance of a particular system is to check its ratings, most popular being the SEER (Seasonal Energy Efficiency Ratio). In fact, the Department of Energy has set the SEER rating requirement to 14 in 2015. However, any system above 14 is considered efficient.
Is Your Thermostat Outdated?
Are you using an old, outdated thermostat? If you are planning on getting a new air conditioner, a programmable thermostat can help you achieve maximum efficiency and comfort. A programmable variant such as the Nest Thermostat lets you control different aspects of your HVAC system and let you set a schedule, smart temperature control and other useful features.
Can The Ductwork Support The New System?
If you are replacing your old HVAC system with a new one, there is a chance you will have to replace the ductwork as well. If your old HVAC system is as old as the house, the ductwork has likely suffered a lot of wear and tear damage and will not be as efficient combined with your new AC system.
Frequently Asked Air Conditioner Repair Questions
How Long Do Air Conditioners Last?
Most quality air conditioner systems can last up to 15 years if they are looked after, meaning repaired and maintained regularly. In most cases, air conditioners will begin developing issues after seven to ten years of service if not kept in good shape. If you want to keep your system in good shape, start with replacing the air filters regularly and cleaning the outdoor unit of debris and dirt. This will significantly prolong its life expectancy.
Should I Hire A Professional To Perform AC Maintenance?
Professional maintenance can do more than you ever could for your air conditioner. Apart from providing professional and thorough maintenance, they can identify any issues early on and make sure your air conditioner is kept in good shape. Professional maintenance is also important for the warranty, as it may become void if your air conditioner is not regularly maintained by a professional air conditioner repair company.
How Often Should I Replace My Air Filter
Depending on the number of people inhabiting your home and the presence of pets, your schedule for replacing your air filter will differ greatly. Regardless, you should make sure to at least check your air filters once a month and see what condition they are in. In most cases, filters should be replaced once every two or three months, or once every two weeks during periods of intense use such as the summer.
How Do I Maintain My Outdoor Unit?
Make sure to regularly trim the vegetation around the outdoor unit. Next, make sure to remove any debris such as leaves obstructing the outdoor unit when the unit is turned off. If you keep your outdoor unit clean, you will be making the entire system more energy effective.
When Should I Replace My Air Conditioner?
Once your air conditioner turns seven, you are likely to expect the first major repairs. Worn parts may eventually prevent your AC from turning on at all. Some of these parts are extremely expensive. Therefore, sometimes replacing your air conditioner will make more economic sense in the long run, since the latest AC models are much more energy and cost-effective than old air conditioners were.
Is A New Air Conditioner More Cost-Effective?
Absolutely. The latest air conditioner models are approximately 60% more efficient than 10-year old models. Contemporary AC units provide more cooling while consuming a lot less energy, which keeps your bills low.
How To Make My Air Conditioner More Efficient?
There are several steps you can take to ensure your air conditioner is as efficient as possible. Start by making sure all the air vents are unblocked. Next, consider investing in a programmable thermostat that will make sure your air conditioner is not working when it's not needed. Finally, use ceiling fans and blinds to keep the air inside your home cool during the summer.