If you need air conditioning repair, you want the issue to be fixed before the heat hits the fan, so to speak. This is only natural because a malfunctioning AC is a terrible nuisance, especially in Tempe AZ. In Arizona where living without air conditioning is simply unreasonable it's good to know that there is a well-established air conditioning contractor readily available to tackle any issue, anywhere in the greater Tempe, AZ area and throughout Arizona.
At Hughes Air Conditioning Heating & Cooling, we have over 30 years of combined professional experience in providing top-notch AC installation of various brands and systems, maintenance and repair. Additionally, we are a team of licensed, insured and bonded HVAC specialists who have the relevant know-how and experience required to undertake any job, large or small!
Comprehensive AC repair services
From central AC repair to ductless split system repair – we are the go-to specialists! Hughes Air boasts a team of trained and qualified AC specialists who are equally good at repairing central air conditioning systems as they are will split systems. We are your one-stop place for cooling repair in Tempe AC, Mesa, air conditioning Paradise Valley and neighboring areas in Arizona.
What is troubling your AC?
Is your unit not cooling your premises the way it used to, or is it not cooling the air at all? Does it seem there is no air circulating through the AC? Have you noticed your AC cycling more frequently that it's supposed to? Are there any unusual noises coming from your AC? Is it leaking? If the answer to any of these questions is ''yes'', don't waste another minute – a seemingly small issue may cause much bigger problems to your AC, not to mention serious inconvenience and expense to you.
Hughes Air can dispatch a polite, professional and qualified team of HVAC experts to your door to address any issue you may be having with the air conditioning. We conduct a thorough inspection and AC service Arizona your AC so you can get all the comfort of a functional AC as quickly as possible.
The different types of central air conditioning are explained here.
Repairing ''America's Most Reliable™ HVAC System''
Trane is a reputable manufacturer of HVAC systems and state-of-the-art cooling systems that bring more comfort, greater efficiency and energy-savings to customers. Dubbed the manufacturer of ''America's Most Reliable™ HVAC System'', Trane continues to deliver only the highest quality. Trane ac systems are durable and reliable; before they are launched, they pass rigorous tests so the manufacturer can be sure the customers are getting uncompromised quality.
Hughes Air was recognized in 2015 as the Mesa AC area's top Trane HVAC installer for the XV product line, by which we officially became a Trane Comfort Specialist. Our customers can be sure that we are the right contractors to repair their Trane AC with maximum efficiency, so they can continue to enjoy its benefits without disruption.
Energy.Gov recommends heating and cooling thermostats and apps to help control your home. Ask us how we can help install one today!
Guaranteed comfort and energy savings month after month
Even the highest-quality air conditioners can get clogged or otherwise compromised after being used for a period of time. Instead of taking your AC system for granted, account for its maintenance. Hughes ac repair can take that weight off your shoulders and take care of the maintenance schedule.
Our routine maintenance agreements can save you money and time in the long run. Prevent any serious damage from happening to you AC by being a responsible and proactive home or business owner. Don't leave anything to chance. Call Hughes Air today and schedule an appointment.
Air Conditioning Repair Troubleshooting Guide
As soon as the hot summer days start, homeowners all throughout Tempe, AZ start cranking up their air conditioners hoping to get that cool, comforting air. But what happens when your air conditioner lets you down at the worst possible time?
To prevent this from happening, you need to make sure your air conditioner is kept maintained throughout the year and not when it's too late. This is guaranteed to keep your air conditioner unit repair needs to a minimum, as all the components will be regularly inspected and kept in shape.
Common AC Problems And Solutions
The last thing you need to handle when the hot summer days come is having to find a 24 hour air conditioner repair service available to handle the issue. And even if you do, the air conditioning repair cost can be very high if scheduled last minute during the busy season.
In order to prepare you for the unpleasant situation, we have compiled a list of the most common issues air conditioning repair services encounter during emergency calls.
Air Conditioner Won't Turn On
The most common complaint even the best air conditioning companies get is "help, my air conditioner is not working". In some cases, this could be a serious issue.
However, you'd be surprised how often the issue is something very simple such as a tripped circuit breaker. In these cases, you only need to replace a fuse or reset the breaker and your air conditioner will be up and running again.
In other cases, there could be an internal issue with the wiring or a problem with the thermostat, in which case you might need to consult an air conditioning repair expert.
Air Conditioner Is Working But Not Cooling
On the other hand, in a lot of cases the air conditioner seems to be working but the air you are getting is just not enough to bring the room temperature down to the desired level. This could be the result of a number of issues.
Let's start with low refrigerant levels. If the refrigerant level is very low, the air conditioner won't be as effective. If you notice that your air conditioner doesn't properly cool your room soon after you've had it installed, bad installation could be the reason why the refrigerant levels are so low. On the other hand, if this is a recent issue and your AC unit has worked flawlessly up until now there could be a leak in your air conditioner.
Without enough refrigerant, your air conditioner won't be as effective as it could be since it is essential similarly to how oil is essential to the engine.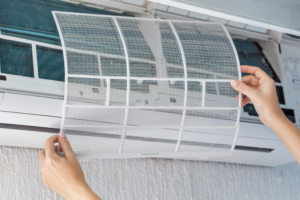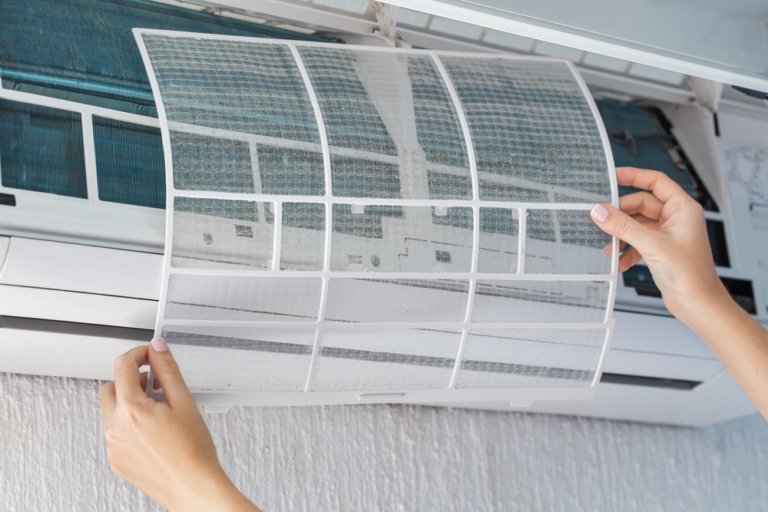 How To Fix Air Conditioner Not Cooling?
If there are no issues with the refrigerant levels, the problem could be a result of frozen evaporator coils. The coil contains the refrigerant, which is the component that is in charge of absorbing the heat. If the air flow is decreased, a layer of ice can form around the evaporator coil. In case this happens, your air conditioner may start releasing warm air or no air at all.
There are several issues that may obstruct the airflow, such as a dirty or clogged air filter, low refrigerant level or an obstruction or leak in the ductworks.
Thermostat Issues
If the thermostat is not working or is not properly calibrated, it might not send the signal out to the air conditioner to turn on at all. Try setting the thermostat to the lowest temperature and if that does not switch it on, you might need to look up a good air conditioning repair company.
Loud Or Unusual Noises
Modern air conditioning systems are built to reduce any noise to a minimum. Any other scenario may indicate an issue within the air conditioning unit. The fan within the AC unit is in charge of getting the air to the evaporator coil and condenser coil and back to your home once it's cooled. If the fan is making loud noises, it could be slowed down by dirt or debris. Other common issues are worn belts or bearings. If you notice any unusual noises, make sure you call a reliable air conditioning repair service in your area.
How to Find Good Air Conditioning Repair Tempe Homeowners Trust?
There are numerous Tempe air conditioning services out there and if you haven't found the one you can rely on and trust, you better start looking. AC issues could happen at any time, which is why it's useful to have an emergency ac repair company on standby. If you don't know where or how to look, read through a couple of useful tips that might help you reach the decision easier.
Ask For Recommendations
The best way to find a good AC repair company is to ask your local Tempe, AZ friends and neighbors for recommendations. If you do find an AC repair company you feel you can trust, feel free to ask for referral contacts – any good company won't be afraid to.
Look For Experienced Companies
The general rule of the thumb is that experienced companies will be more likely to deliver the quality of service you expect from a reputable Tempe air conditioning repair service. This type of information will likely be displayed on their website. Some questions you need to ask to determine how experienced they are include:
How long has the company been in business?
Are they part-time or full-time contractors?
Do they have a particular expertise?
Are they experienced with your particular AC system?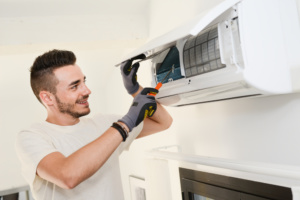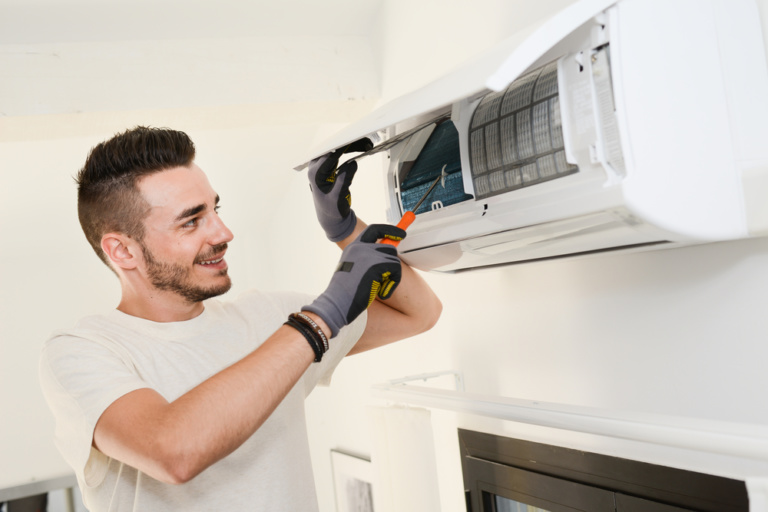 Ask About Brands They Work With
If you need a part of your AC system replaced or a new system installed, you should check whether the company works with the particular brand you are interested in. If you have your mind set on a particular system, make sure the company you choose offers full support. Otherwise you may run into issues if you have to use your warranty down the road.