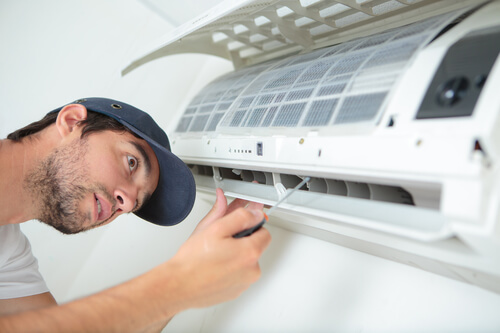 Keeping your home AC system up and running without a hitch is a must – come summertime, it will be working full time and facing the heat head-on. On the other hand, if it breaks down when it's most needed, you'll have no choice but to call the nearest, immediately available air conditioning service AZ. You might luck out and come across a decent local AC repair company, or you might end up being taken advantage of and overcharged for a poor service!
All of this can be prevented by getting to know your AC system and choosing a reliable local AC repair company to carry out regular maintenance and be your go-to company for any urgent AC repairs. That way, you'll feel confident that you are being treated with respect, as a loyal customer should. Choosing the right company, however, requires taking some important points into consideration.
The ventilation system should also be checked regularly
All air conditioning systems, regardless of the brand, work by being connected to the home's ventilation system. Ventilation vents and ducts can easily be neglected or overlooked as they're hidden from sight. This doesn't mean that your local AC repair technicians shouldn't check them time after time. If not kept properly, the poor air quality can cause discomfort and even health problems for members of the household.
Good
local AC repair
schedule is half the work
The importance of regular maintenance is all too easy to forget. Don't worry, it shouldn't be your job anyway, as there are professional local AC repair companies to do it for you. A trustworthy AC maintenance and repair company will work out all the necessary details and create a schedule accordingly. This goes way beyond changing the air filters and should cover things like checking the ventilation, searching for any leaks, cleaning the unit and other activities. You should be able to leave everything in their hands and just lay back.
Air quality must always be kept in mind
If you live in the Arizona area, an air conditioner is probably something you use very often. This is why it's important to have professionals check you indoor air quality. There are some issues which can't be resolved by simply opening the window – they need to be addressed properly. Your HVAC system can affect air quality in several ways, one of the worst ones being leakage. Keeping an AC system fully functional from day one thanks to regular maintenance and timely air filter changes prevents or reduces indoor pollution.
Using your AC system to the full
Every household appliance has a working span and so does an air conditioner. However, proper maintenance done by experts can prolong it and save you money in the long run. Not only will you be avoiding costly replacements and repairs, but also enabling the system to operate at its full capacity. Only experienced professionals know which parts need special attention, making sure your AC is safe and sound.
#1
Local AC repair
service in Arizona
Hughes Air's first-rate technicians will keep your AC system fully operational, all the while saving you money by preventing unnecessary costs. We provide top-notch local AC repair to customers in the Arizona area. Our experience and satisfied clients are a testament to the quality and efficiency of our services, as well as to our professionalism. Call us today and see for yourself!