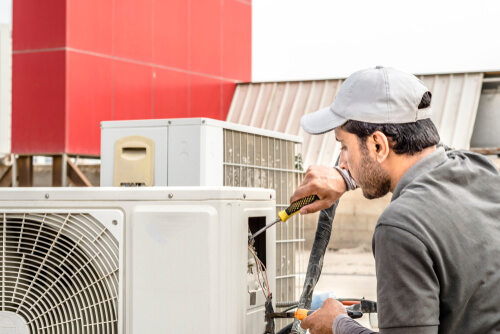 Is your air conditioner giving you trouble? If that's the case, you may be wondering whether repairing is a good idea or if it would be financially smarter to replace your air conditioner with a newer, higher-quality model. 
In most cases, figuring out when to replace your AC is far from simple. If you constantly have to spend money on repairing your air conditioner, that's a good sign that you may need a replacement. But what if things aren't so clear-cut? 
That's when you get in touch with the leading air conditioning repair in Chandler! The knowledgeable technicians at Hughes Air will look at your unit and determine what your best route may be. And if you decide to go with a replacement, they'll help you pick the right air conditioner model for your needs. Read on to find out how to decide! 
Should I repair or replace my AC?
Deciding whether to repair or replace your air conditioner will depend on a number of different factors specific to your situation. Here are the most important questions you should ask yourself before making the decision: 
How old is your air conditioner? The average lifespan of an air conditioner is around 10-15 years, according to

NAHB

. If your unit is older than that, you may want to consider replacing it with a newer model. 

How frequent are the repairs? If your AC keeps breaking down every year or every 2 years, that means that a replacement is probably a good idea, especially since repairs can be quite costly. 
Are your energy bills too high? AC units become less efficient with age. Because of this, your electricity bills may increase over time. In addition, decreased efficiency can also be a sign of a serious issue with your unit. Have it checked and consider replacing it. 
Is the AC efficient in cooling your home? If your air conditioner is unable to cool down your home evenly, you should have seasoned technicians take a look at it and see if they can improve the efficiency of your unit. If not, invest in a better model. 
When should I replace my AC unit?
So, when is a replacement really necessary? Well, here's a list of the most important factors which may indicate that your AC needs to be replaced:  
Your air conditioner is more than 10-15 years old. 

The repair costs are higher than the replacement costs.

Your air conditioner uses the costly R-22 refrigerant.

Your unit is making strange rattling or buzzing noises.

The system is becoming less effective every year. 

Your electricity bills are getting higher and higher.  
Can I replace my AC unit myself?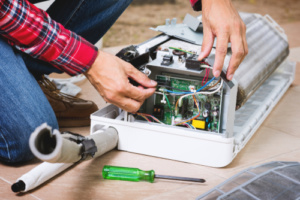 If you said yes to most of the above-mentioned statements, you've probably come to the conclusion that you should invest in a new air conditioner. If that's the case, you may be tempted to avoid installation costs by replacing the unit yourself. 
An AC unit installation is a complex task that is best left to experienced professionals. Even if you believe you have the necessary knowledge and skill to replace your unit yourself, you should think twice before attempting it since a botched installation can significantly reduce the efficiency of your unit and increase your electricity costs. Leave it to the pros if you want to ensure the best HVAC experience and avoid unnecessary repairs. 
Stellar air conditioning repair Chandler is proud to call its own
Keeping your air conditioner in good shape throughout the year is necessary if you want to stay cool and comfortable, especially if you live in an area with sizzling summer temperatures. That's why you should think hard when deciding whether to replace or repair your air conditioner.  
No matter what you decide, you can count on Hughes Air to help you. We're the best people for the job whether you need someone to check why your AC isn't cooling your home, repair or maintain your AC properly or install a new air conditioner that meets your cooling needs perfectly. 
We'll take all your AC worries away, allowing you to relax with your family or visit the Chandler Museum. Contact us today!