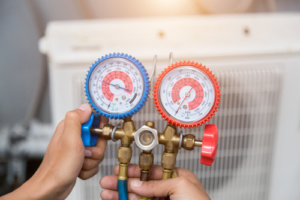 Regular maintenance is a must if you want to ensure the optimal performance of your AC throughout the year. If you allow your filters to become dirty or notice your AC is making strange noises but choose to ignore them, you'll most likely have to deal with issues that could have been easily prevented by proper AC maintenance.and shorten the lifespan of your unit in the process.    
Why let that happen when you can rely on the leading air conditioning service in Chandler, AZ to keep your AC in peak condition? Our dependable technicians can maintain, repair or replace your AC unit with unequaled expertise and skill, making sure your home is always perfectly cool and comfortable.  
Read on to learn why maintenance is important and how to do it properly. 
How do you do AC maintenance?
Regular upkeep of your AC is necessary if you want to ensure maximum efficiency of your unit. Here are some maintenance essentials that will help you stay comfortable in your home:  
Clean or change your air filters: dirty air filters can block the airflow and reduce the efficiency of your unit. Make sure to clean reusable filters once a month or replace them if necessary for optimal performance. 
Keep the AC coils clean: the condenser and evaporator coils in your unit can get dirty with constant use which can insulate them and decrease their heat absorption abilities. Have the coils checked and cleaned every year to prevent this from happening.  
Maintain the coil fins of your AC: the coil fins on the condenser and evaporator coils are made from aluminum and are thus easily bent. If that happens, the airflow from the coils will be blocked. Hire HVAC experts to straighten them and keep your AC functional.
Keep debris away from your unit: dirt, leaves, and other debris can collect on your outside unit over time. Make sure to trim shrubs and remove any obstructions from your unit to prevent reduced airflow and efficiency. 
Clean the condensate drains: the drain channels of your AC can get clogged after heavy use, preventing the system from dehumidifying the air properly. That's why you should clean the channels occasionally with a stiff wire. 
Is it necessary to service AC every year?
Does your air conditioner really need a tune-up every year? While it certainly isn't true that your AC unit will break down if you don't service it every single year, regular tune-ups and maintenance bring a number of great benefits you wouldn't want to miss out on: 
A tune-up will make sure your AC is in tip-top shape for the upcoming season. 

Maintenance can help you save up on unnecessary repairs. 

Maintenance can increase the life-span of your unit immensely. 

A tune-up can boost the efficiency of your AC and reduce your electricity bills. 

Tune-ups are recommended by the U.S. Department of Energy, EPA, and

EnergyStar

.

Not maintaining your unit regularly may void your air conditioner warranty. 
All things considered, having your unit serviced at least once a year is the only surefire way to maintain the optimal performance of your air conditioner in the long run. 
Hire superb air conditioning service Chandler, AZ counts on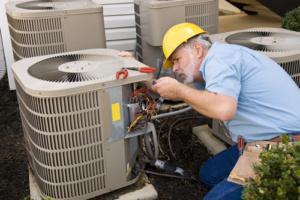 Without regular tune-ups, you may soon find yourself wondering: "My AC has stopped working, what do I do?" Luckily, the answer is as simple as can be. Just reach out to dependable AC technicians and let them work their magic.
The seasoned professionals at Hughes Air will not only repair or maintain your air conditioner expertly and efficiently but they will also give you invaluable advice on using your cooling system and help you choose the best air conditioner for your needs if you're looking for a replacement. 
With their help, you won't have to go to Mesquite Groves Aquatic Center to cool down since your home will fresh, cool, and comfortable like never before. Get in touch with us today!