Spring is getting closer with each passing day, which means your heating will be seeing less and less use while your air conditioner will likely be running 24/7. Needless to say, the last thing you want is for your AC to suddenly start acting up in the middle of a sweltering summer day.
Luckily, getting your AC ready for spring will not only help you avoid those problems, but also enable you to spot any signs you need AC service before they can lead to serious malfunctions and expensive repairs.
In an effort to help you ensure your AC works flawlessly throughout the upcoming months, we have prepared a brief 6-step guide on how to get your air conditioner ready for spring. Keep reading to learn more.
How to prepare your AC for spring?
Since you don't need your AC during spring as much as you do during the prime cooling season, early spring is a great time to consider any upgrades to your AC, such as getting a new thermostat or adding zone control systems.
Follow these 6 steps when preparing your air conditioner for spring:
Step #1: Uncover the outdoor unit
Remove the AC cover (if you use one) and make sure no sticks, leaves, and other debris has gotten stuck in the exterior unit, especially inside the fan shroud.
Step #2: Check the electrical panel
If you turned off the power to the outdoor unit during winter, now's the time to open the electrical panel and make sure the breaker or fuse is set to "ON".
Step #3: Check the air filter in your interior unit
All indoor AC units in Chandler contain one or more air filters that are designed to prevent dirt, dust, and other contaminants from getting inside your home. However, the filters will eventually become clogged with regular use.
Depending on how much you use your AC, these filters should be replaced (or cleaned, if they're reusable) every 1-3 months.
Step #4: Give it a quick cleaning
Hose down your outdoor AC unit using a low pressure hose to wash away any debris. This will prevent dirty coils and other problems from interfering with the way the system operates and keep it energy-efficient.
Step #5: Turn off the humidifier
Although humidifiers should be installed in a way that prevents their use during the warmer months, this isn't always the case. To keep from wasting cool air, you should close the damper on your humidifier (if it has one) and completely turn down the humidity control.
Step #6: Schedule professional maintenance
Both system manufacturers and the US Department of Energy recommend regular inspections and tune-ups for all AC units. This increases the efficiency of your AC, reduces energy consumption, prevents common and expensive AC problems, and prevents the premature failure of your air conditioner.
A professional tune-up includes:
Tightening electrical connections
Flushing the condensate drain
Measuring airflow to ensure optimum cooling and proper operation
Taking measures to prevent rust and corrosion
Examining the ductwork for leaks
Lubricating moving parts such as the motor and the fan
Who should you call if you spot telltale signs you need AC service in Chandler?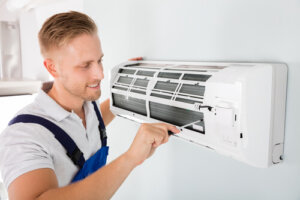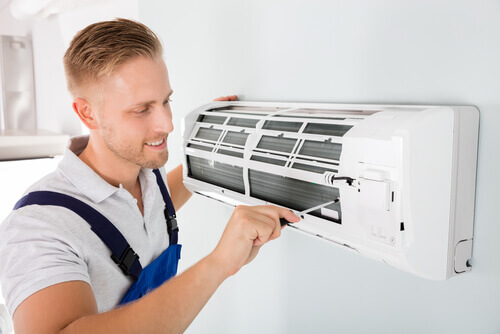 Your air conditioner is one of the most important appliances in your home. In addition to keeping your home cool and comfortable during the hotter months and warming it up during winter, it also limits the amount of dirt, dust, pollen, and other grime that gets into your house.
Here at Hughes Air, we'd like to help you keep your AC running perfectly for many years to come. As the premier AC technicians in Chandler with over 30 years of first-hand experience, we'll happily take care of any AC-related problems you might have while you relax at the Snedigar Recreation Center with your loved ones. Call us today.