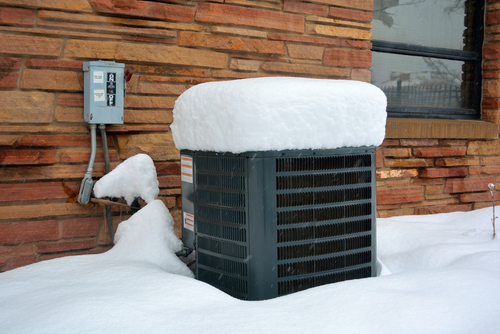 An air conditioning unit is an essential household component that enables you to create a cozy, comfortable home. So, a great number of homeowners tries to optimize its performance and maximize its efficiency. From booking unmatched air conditioning installation in Gilbert, AZ to properly repairing and protecting your AC system, there are plenty of things you can do to achieve this. 
Yet, one of the common questions that homeowners have is whether covering or shading their units can have any effects on its functioning. 
Will shading air conditioner help?
As you already know, your AC system contains an indoor and outdoor element. The outside component is called the condensing unit and it's in charge of absorbing the heat from your home interior and releasing it outside. During scorching summer days, the unit may need more energy to function, which may lead to an increase in electricity bills. 
So, people often think that shading the condensing unit can help them reduce their bills by relieving pressure from their AC system. However, there are a few important considerations to keep in mind:
Improper shading can restrict the AC airflow, preventing it from functioning properly or even damaging your unit. 
Planting trees around your AC to provide it with shade may expose it to debris, leaves, branches, and dirt, which can cause some problems such as clogged air filters. 
Building certain structures around your AC may protect it from direct solar exposure, but high temperature levels can still hinder its performance. 
Shading and insulating your entire home can help you achieve even better results and increase your energy savings in the long run. 
Consulting with your AC contractors beforehand is highly advisable because they can give you expert advice on how to properly protect your unit. 
Should I cover my AC unit in the summer?
Homeowners also wonder whether covering their unit in the summer is a good idea and how it can affect their system. However, it's important to stress that you need to be careful when covering your AC and follow a few important tips.
Don't cover your unit in the summer. Instead, you should do it immediately after the summer to protect it from leaves, dirt, and debris that can clog its components in the fall. 
Don't cover the entire unit. The protective cover should be placed just over the top and six inches to the sides. Otherwise, you'll trap moisture inside and risk causing a problem. 
Choose the right cover. Using a plastic cover to protect your AC system can trap moisture inside. This may lead to the corrosion of the electrical components. Instead, consider using a breathable cover such as canvas or something that can absorb the dripping water. 
Protect it in the winter. Covering your unit in the winter can protect it from debris, ice, and other possible hazards. 
Consult with your contractors. It's generally not advisable to cover your AC unit since the system is already designed to withstand unfavorable weather conditions. If you still believe you can benefit from doing so, make sure to seek advice from your technicians. 
Schedule regular maintenance. Regular AC maintenance is advisable regardless of whether you cover your AC system or not. However, you may want to have your unit checked more frequently if you decide to cover it. 
Our air conditioning installation experts in Gilbert, AZ guarantee quality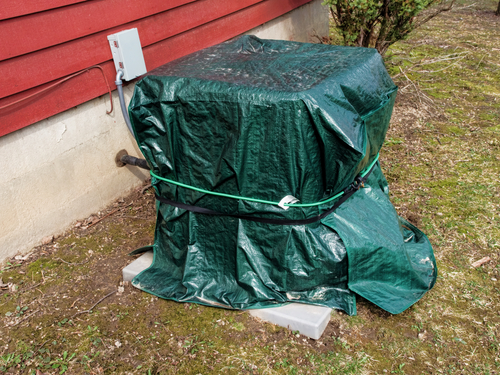 Has your AC stopped cooling your home? Just give us a call and we'll fix the problem in a heartbeat! Here at Hughes Air, we provide outstanding AC installation and other related services to our neighbors in Gilbert, AZ. You can count on us to set up your system perfectly, optimize its performance, and help you turn your home into a cozy haven. 
When rendering our services, we strive to maintain a consistent level of quality and ensure complete customer satisfaction. What's more, we're so efficient that you'll even have time to relax in Freestone Park after we get the job done. Contact us today and see why we're the leading experts in the area!